STORAGE FACILITIES, COMMERCIAL FACILITIES, INDUSTRIAL HALLS AND APARTMENTS FOR RENT!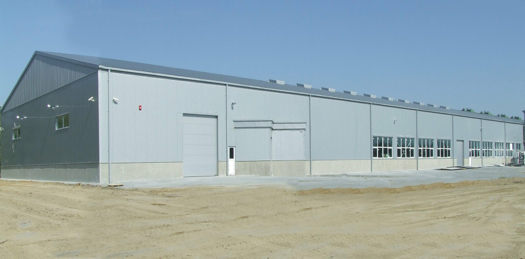 We believe it is important for any enterprise leasing real estate from us to perform commercial activities and services which help the development of the settlement in question, and significantly improves the standard of living for those living there. Depending on the settlement and based on the types and locations of the building we can make available, a number of business activities are feasible. We can offer a number of alternative locations for outlets, offices, community facilities, logistics warehouses, and industrial plants in many different parts of the country! Our properties are outfitted according to the requirements of tenants wishing to move in, with the help of our own professionals or reliable subcontractors.
COMMERCIAL, PUBLIC, AND OFFICE BUILDINGS FOR RENT
IN BÉKÉS COUNTY
FÜZESGYARMAT
There are properties for rent in the three-storey office building located in the center of town.
A 26 square meter space

ideal for a hairdressing, beauty, or nail salon

is available, with an entrance opening to the street front.
Individual meters for: water, gas, electricity
Heating: gas convector
A 30 square meter space

for an outlet or commercial unit

is available, with an entrance opening to the street front.
Individual gas and electric meters, flat-rate water consumption
Heating: gas convector

Office spaces

are available with possible modifications according to individual needs or requirements starting from 30 m2.
(The property is currently undergoing refurbishment, making further negotiations necessary.)

Community spaces

are available for public and educational institutions, including larger properties of up to several hundred square meters, for custom purposes. The property can be outfitted according to the tenant's technical requirements!

Exclusive apartments

on the top floor of the office building, available for outfitting and long-term lease.
SZEGHALOM
Properties are available in the center of town next to the main road, appropriate for use as commercial units, bakeries, or offices.
Tildy utca 1.

60 m2 property outfitted as a bakery and bakehouse with a storefront and two entrances.
Individual meters for: water, gas, electricity
Tildy utca 7.

47 m2 property on the ground floor of the Enterprise Center Hotel and Restaurant with two rooms, appropriate for rent for a real estate business, office, or financial institution. Highly frequented area.
The building also has a pizzeria open nights and weekends, further extending the hours for frequenting the building.
Individual meters for: electric meter, flat-rate heating and water consumption
Heating: gas boiler
Széchenyi utca 11.

101 m2 shop for rent in the Layer shopping center, next to Highway 47 and close to the city center.
The area boasts excellent parking facilities and international drive-through traffic.
Individual meters
Heating: central
Széchenyi utca 74.

loft property next to Highway 47 and adjacent to Sárrét Industrial Park, located in a rail transport intersection.
The building was originally constructed for use as a bakery and shop, and continues to be excellent for that purpose today.
Apartments for rent and offices can be outfitted in the loft, with commercial real estate on the ground floor, with a total floor area of almost 500 m2.
The commercial real estate section can be outfitted by our company according to the tenant's requirements.
Individual meters
Heating: central gas boiler
INDUSTRIAL AND AGRICULTURAL PROPERTIES FOR SALE OR RENT
IN VESZPRÉM COUNTY
KUP
Properties are available in the settlement of KUP, located in the hills of Bakony 12 kms from Pápa. Properties of 4.7 ha and 1.5 ha are available for sale or long-term lease in outlying areas, registered on separate lot numbers:
The

4,7 ha

property has green space, a paved yard, industrial halls, an office, and communal and workshop buildings. Its nature makes it appropriate for use as an enterprise center!
The

1,5 ha

property has a 1400 square meter building, originally a 100-capacity stable. It can be used for its original purpose, or as a warehouse.
INDUSTRIAL AND AGRICULTURAL PROPERTIES FOR SALE
IN BÉKÉS COUNTY
ECSEGFALVA
An unfinished property for sale in the outlying areas of ECSEGFALVA, 16 kms from Highway 4.
The building is accessible via paved roads, as it is located approx. 200 meters from the Dévaványa-Ecsegfalva public road.
SERVICE WORKSHOP
IN BÉKÉS COUNTY
SZEGHALOM
Located in SZEGHALOM, BÉKÉS COUNTY, adjacent to Highway 47 in a highly frequented location, at the intersection of Kinizsi and Széchenyi streets (with roads leading to Debrecen, Békéscsaba, and Füzesgyarmat from the intersection) Capable of servicing 3 vehicles (Bus, Truck, Car) 300 m2 service workshop with 1 inspection pit, communal spaces and warehouses for long-term lease. Rent: HUF 700+VAT/m2 + overhead costs.
APARTMENT, OFFICE, UNBUILT PROPERTY FOR SALE
OVER THE BORDER
ROMÁNIA
Properties for sale in Oradea.
Located in the garden suburbs of Oradea, on Dózsa György street,

near the hospital, on a hilltop, with a full panoramic view, 10 ha property for sale. The site can be developed, and is partially outfitted with public utilities. Plan documentation is available for a residential park construction project.
Located in the city center of Oradea, at Republicii utca 27.

- in the pedestrian street - an exclusive, furnished 4th floor apartment with 3 rooms (1 room furnished as an office, 1 as a meeting room) for sale.
The above listings do not constitute an offer!
Please contact our personnel for up-to-date information regarding our currently available properties.