LAYER Kft. celebrated its 30th anniversary in 2012.
The company was founded by István Layer, who was partly following family traditions when he began his enterprise. The foundation of our activities was born in a small family enterprise selling water and gas fittings, founded in September of 1982 by István Layer and his father. Originally located in a 26 m2 wooden house, today – thanks to 30 years of dynamic growth – Layer Kft. comprises more than 20,000 m2 of industrial buildings, outlets, and logistics warehouses, providing for the efficient and successful operation of the company, as well as for the enterprises that have settled or are preparing to settle in the industrial park. Layer Kft. has grown to become a dominant construction company in the region.
OUR KEY PRINCIPLES:
we provide high quality, efficient solutions
reliability
customer-oriented, flexible attitude
complex, high quality services at a single location, with sustainability an important consideration
(e.g. self-sustaining energy supply, use of renewable energy sources)
practical and logical cooperation with our clients
The definitive tasks of the coming years and decades will be the integration of environmentally friendly, renewable energy sources into the company's activities, while retaining the reputation for stability and reliability which Layer Kft. has earned over the last 3 decades.
MILESTONES: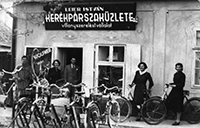 1937
The bicycle shop owned by István Leier Sr., the basis of the family tradition.
1982
The plumbing and bathroom fittings shop opens its doors, on a total of 26 m2 of leased real estate.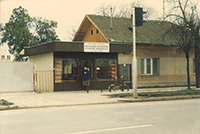 1983
The business moves to a wooden house, built personally by István Leier Sr. on the yard of the family home. This makes it possible to further expand the inventory, and the business begins the distribution of gas fittings and steel products.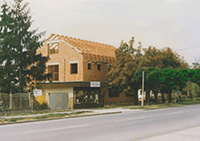 1989
The private enterprise grows into a business organization, and continues its operations as Layer Kft. It invests and moves into a modern three-storey office building with 20 full-time employees.
1991
The company purchases the Szeghalom site of AlföldiTüzép, laying the foundation for its fuel and building material distribution business.
1996
The company moves to its current site, where its operations are supplemented by new services on an almost 6 ha area of real estate, with over 3,000 m2 of warehouses and outlets.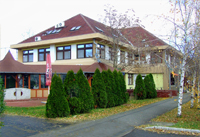 1998
The Enterprise Centre Hotel Restaurant opens its doors in downtown Szeghalom. It is the ideal location for events, with food and lodgings available.
Receiving the title of "industrial park". Sárrét Industrial Park is founded on 10 ha of self-owned real estate, offering investment opportunities for enterprises establishing themselves in the park. Several industrial halls are constructed in the following years, to enhance the region's economic growth.
1999
Csaba Expo: the enterprise is awarded the "Prize for the Most Attractive Outdoors Stall".
2004
István Layer is presented with the "Békés County Entrepreneur of the Year" award.
2006
The company continues to grow its business. FretusKft., the construction branch of Layer Kft., is founded in Romania.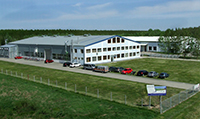 2009
Despite the economic recession, Layer Kft. opts for further investments, and submits successful tenders for new investments, as well as for entering new areas of business.
2010
The company decides to implement an ISO Quality and Environmental Management System.
2011
A new important milestone in the operations of Layer Kft.: laying the foundation stone for a 2765 m2 hall with an industrial crane, as well as for a 3405 m2 industrial hall to be constructed in Sárrét Industrial Park. Layer István's work is honored with the Klauzál award.
2012
Over its 30 years of operations, Layer Kft. has become a dominant construction company in the region. Two industrial halls were ceremonially handed over in October. One of the industrial halls has an already existing enterprise expanding its operations, as well as two new enterprises settling in to continue their operations. In the other hall, Layer Kft. is planning to launch three new areas of operations: steel structure manufacturing/plate machining, aluminum and plastic door/window manufacturing, and automotive services.
2013
A year of development for the infrastructure of plants, logistics warehouses and commercial units owned by Layer Kft. and located in Sárrét Industrial Park. In addition, this year saw modern, energy-efficient heating and electrical systems using renewable energy sources integrated into the existing traditional systems, then gradually gaining ground to replace them.
AREAS OF OPERATIONS:
General construction
Wholesale and retail distribution of industrial iron and steel products
Wholesale and retail distribution of building materials
Distribution of agricultural machine parts
Steel structure manufacturing and plate machining
CNC water jet and flame cutting
Transportation, logistics
Real estate utilization and leasing
The operation of Sárrét Industrial Park, leasing industrial halls
OVER 30 YEARS
OVER 100 FULL-TIME EMPLOYEES AND 30 RELIABLE CONTRACTORS
OVER 20,000 M2 OF INDUSTRIAL HALLS, RETAIL AREAS, AND LOGISTICS WAREHOUSES
THE ENTERPRISES LOCATED IN SÁRRÉT INDUSTRIAL PARK PROVIDE A SECURE INCOME
FOR OVER 300 FAMILIES