DESIGN - RENDERINGS - WE PROVIDE AN OFFER WITHIN 48 HOURS!
INDUSTRIAL HALLS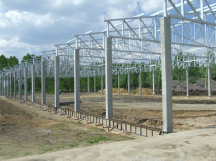 Our over 30 years of general construction experience is "built into" the industrial halls we design, manufacture, and construct. This is true whether it is a production hall equipped with a bridge crane, a business incubator building, a logistics warehouse, a vehicle production and maintenance plant, or a facility for food processing or electronic parts assembly. Our constructions adhere completely to all technological specifications, as we strive to create a harmonious, practical, functional, and cost-efficient work of architecture, taking the client's needs, requirements, and image maximally into account.
CUSTOM FACILITIES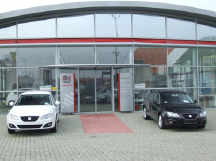 Our custom-built facilities include halls, commercial units, or other buildings constructed out of steel or concrete and intended for special functions or operations which require an increased level of technical expertise for the construction and installation of the required technologies. Our references as a company include aircraft hangars, cold storage facilities, fish processing plants, steel podiums, laser and water-jet machining centers, reception rooms with foundations, as well as the installation of smoke and heat extraction domes for production halls.
AGRICULTURAL FLAT STORAGE BUILDINGS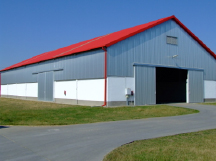 As part of our DESIGN-PROCUREMENT-MANUFACTURING-CONSTRUCTION process, we offer cost-efficient and flexible solutions for grain, machinery, and hay storage. Besides the general construction of buildings, we also undertake the foundation work and assembly of loading and unloading equipment, drying systems, dust chambers, and control rooms, through collaboration with the technology vendors. In addition, we offer alternative solutions for civil engineering systems intended for rainfall and urban drainage or storage, along with environmental recultivation.
PUBLIC AND RESIDENTIAL BUILDINGS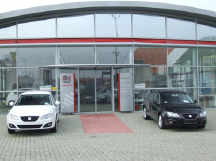 In addition to the construction of industrial and agricultural facilities, our references include the construction, renovation, an refurbishment of several educational institutions, health care facilities, government buildings, cookeries, and banks, as the reconstruction of multiple public buildings. These investments - whether funded through public procurement or tender funding - require a complex technical expertise which is indispensable for the correct operation, usability, and internal and external image and aesthetics of the buildings.